Bluff View, the Climbers' House
There are only three main roads on the Brac and the Bluff View House is on the South Side road, towards the east end of the island.  This is the quiet end of the island, far from the noise of the airport and what little traffic there is.  It's also very dark for good stargazing.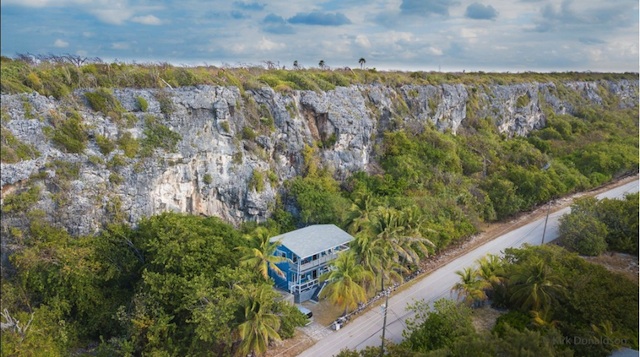 Bluff View is up against the bluff and nestled between coconut palms, agave and cacti. It's 60 yards to the water, and the sound of the waves and palm fronds in the wind lull you to sleep.
There are two independent and identical apartments. The outdoor shower and the shed with the washer are shared. One bathroom per floor. Room for 4 people on each floor: 2 in the bedroom and 2 on the double futon.
It's nothing fancy, but it's comfortable and has everything you need including a fully equipped kitchen (fridge, stove, blender, coffee maker, microwave, pots, dishes, etc.), sheets, towels and a clothes washer out back.  After a day of climbing, the outdoor shower is highly recommended!  I haven't showered indoors in years.
For a long-term stay with small children, government-run Daycare is available and requires the usual proof of vaccinations, paperwork and about US$20/day.  An alternative is for you to hire a "Gramma" to come to Bluff View and watch over your children while you climb.   The usual cost is US$30 – 37/day.   Contact me for more information on either Daycare or a Gramma.
So bring your clothes, toothbrush, CDs or Ipod (and cable w/ standard 1/8″ male connector on both ends), snorkel, scuba and climbing gear.  No TV and no internet means… a real vacation!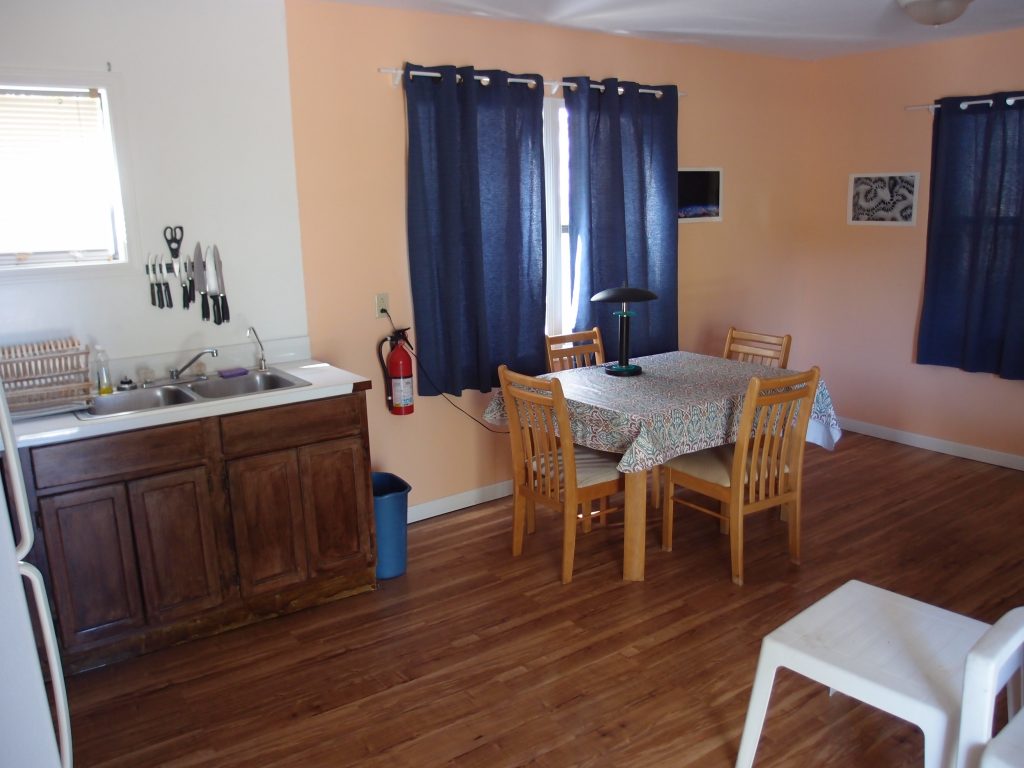 Dining area
RATES
Summer Season:  May 1st through November 30
US$100/day plus $60 cleaning fee (no minimum stay)
US$640/week  cleaning fee included
Winter Season: December 1st through April 30
US$120/day plus $60 cleaning fee (no minimum stay)
US$800/week  cleaning fee included
For more information and reservations contact John:
(970) 897-2787      jbyrnes@ezlink.com

Other climber-friendly places to stay
The Cayman Breakers and Kings Point condominiums are just down the road from Bluff View.
Phone: 1-345-948-1463
http://www.kingspointcayman.com/
caymancondosonline.com/index.php
The Brac Beach Resort is a comprehensive resort at the west end of the island.  While it caters mostly to divers, everyone is welcome by the excellent friendly staff.
http://www.caymanbracbeachresort.com/